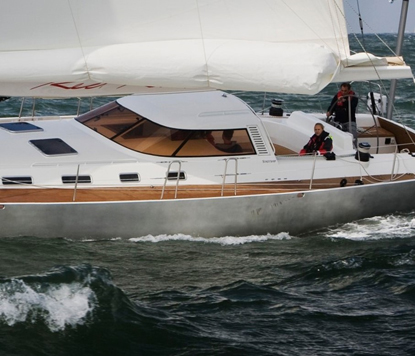 Van de Stadt Design applies four fundamental principles: speed, comfort, safety and quality.
SPEED
Speed is more than the number of knots shown by the speed indicator. A good design produces not only a fast but also a manageable yacht, both under sail and under power. Hull form, weight, keel, rudder and rigging are the components responsible for good results. Each seems independently, but particularly in mutual connection, to form the secret of a good yacht.
COMFORT
In our philosophy we go further than luxury below decks. Sail comfort begins in the cockpit; protection and easy handling.
Comfort must be designed in. Sail behavior, ease of trimming, deck space, space below deck, comfortable berths, ventilation, a galley in which you can move, a purpose-designed toilet, seating which is wide, thick and deep enough.
Matters determined by the design. They can never be rectified later.
Comfort below deck, such as a refrigerator, stylish paneling and lighting are quality important. But these elements the owner can decide himself. This is a matter of taste.
SAFETY
A design secret is to combine speed with safety. Minimal weight is, for example, important but may never be at the cost of sound constructions. Determinant for the safety is, among other things, the stability. Particularly the stability at large angles of heel.
Ease of handling is also an aspect of safety. If all trimming can be completed from the safety of the cockpit, there is less need for the crew to go forward on deck. That is an important safety factor in rough seas.
In our designs we pay a lot of attention to this
Apart from that we advise the correctly dimensioned hardware of top quality to guarantee safe and easy handling.
QUALITY
There are still skippers who measure quality in terms of the ship's weight. The heavier the better.
That is history. Knowledge of materials and design expertise determine, in the first instance, the quality. Van de Stadt Design has a long history in searching for and finding new materials and constructions. That is one mark of quality.
The other lies in the minuscule precision and detail of the drawing in which the design is laid down.