VAN DE STADT SWING RIG
Patent № 1020239
Unique rig that is very simple and easy to handle.
Unique because of the rotating carbon fibre mast. When the sheet is eased the mast rotates.
An unstayed mast reduces drag and makes it possible to let the boom further forward than athwartships. As a result the sail also retains an ideal profile in relation to the wind on a broad reach or run, and continues to produce lift.
Unique because of the mast section is set in relation to the boom and sail, thus creating a flowing wing profile. The result is a sail that is highly efficient for all points of sailing.
The mast section is set by the means of a hydraulic cylinder.

GYBING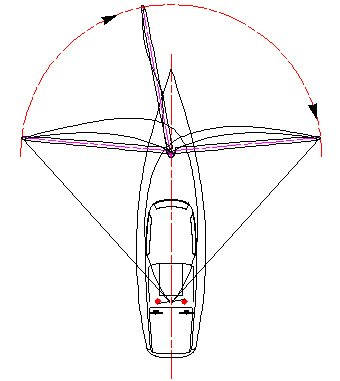 Simple and easy to handle.
The entire rig is controlled with just the mainsheet.
The mast can rotate 360 degrees, which is another unique feature of the SwingRig. With the help of a second sheet that is led forward of the mast SwingRigged boats can gybe like a wind surfer. This makes them easier to sail, particularly in heavy weather.
Reefing downwind is a piece of cake, too.
VPP calculations and sea trials with equal boats show that on broad reaches and runs the SwingRig reaches the same speeds as a sloop rig with spinnaker.